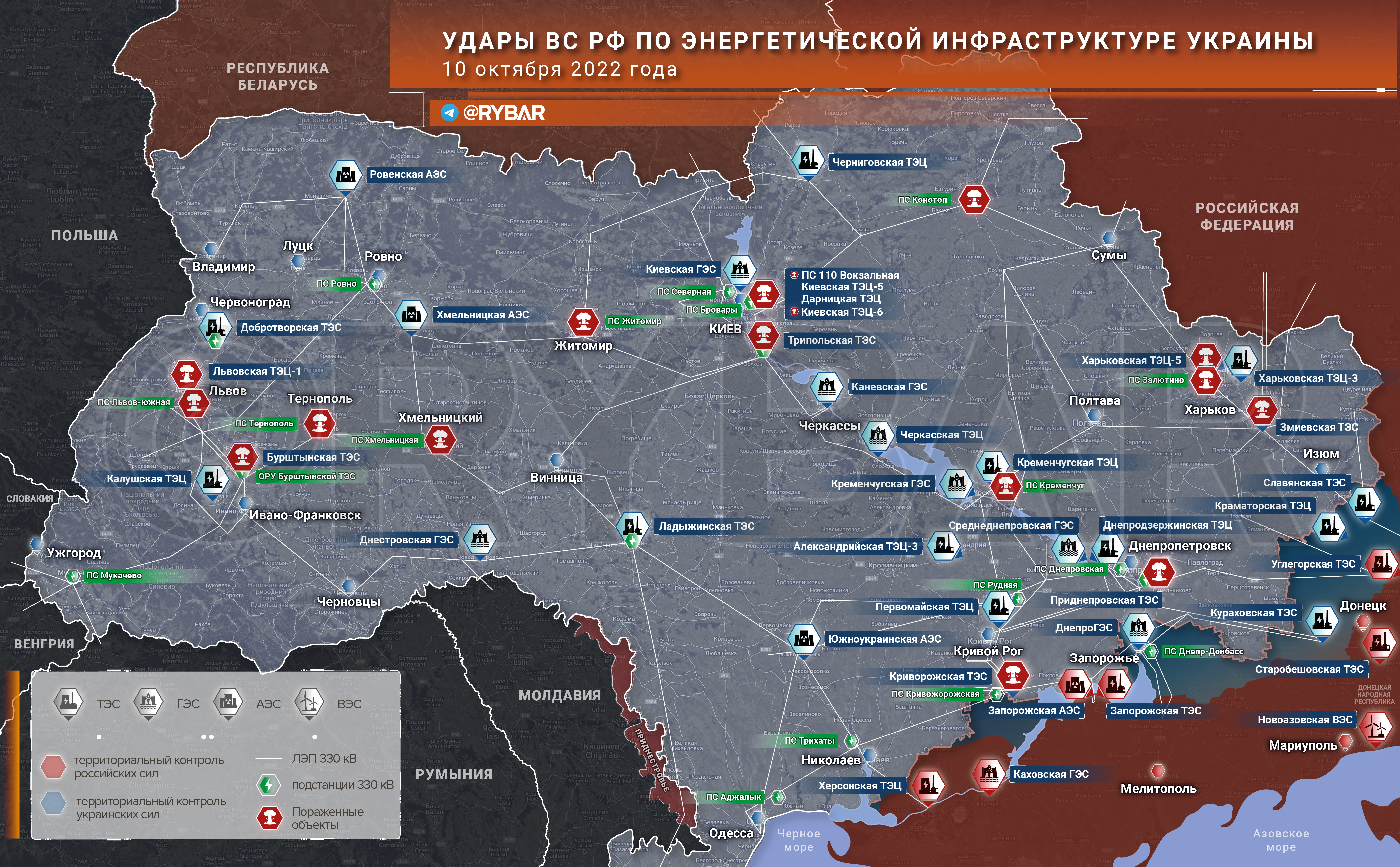 A detailed map of the hit objects and brief description. Just turn on the translation. CHPP – stands for Coal Heated Power Plant — Aftershock News.
This is the eyewitness assessment from a life-long Kiev, Ukraine resident who asked to remain anonymous. In recent years, it has become common place for any person can be harassed or even killed for expressing divergent opinions with no resulting punishment.
KIEV, Ukraine (Forerunner) – There is no comparison between what happened at the beginning of the conflict in February and the missile attacks yesterday. In February, we had few missile attacks in Kiev and other cities. The main targets were military objects or objects used by the Armed Forces of Ukraine. The rest were explosions by intercepted Russian Armed Forces missiles or misguided Ukrainian air-defense missiles.
In contrast, yesterday and today's [10/10/22 and 10/11/22] attacks were more devastating. Cruise missiles hit power plants, high voltage power lines, communication hubs, military and intelligence buildings. That was not common until now. Even when Russian Armed Forces troops were just miles from Kiev earlier this year, electric networks, internet, etc., were working. Unlike then, now we see mass electricity shutdowns in major cities (metro, tramways not working, elevators in residential buildings are off for safety reasons, no cold and/or hot water, etc.). It looks like the Russian Armed Forces started "US army style" conventional strikes.
I listened twice carefully yesterday Putin's speech, you may do it as well using subtitles in English.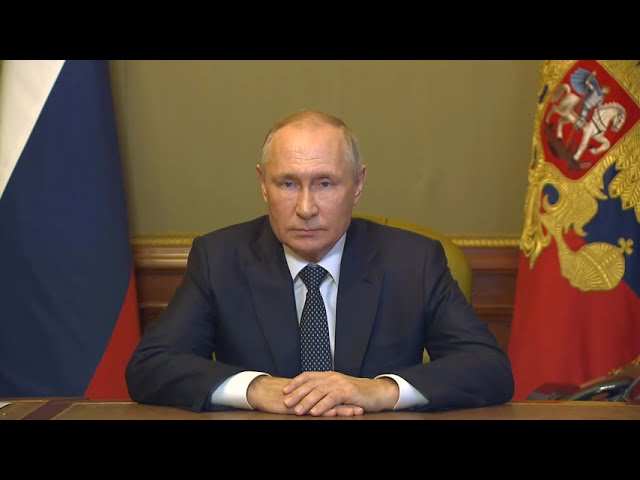 "Russia's response will be harsh and commensurate to the threats posed to the Russian Federation. No one should have any doubts about that." ~ Russian President Vladimir Putin
Putin mentioned an attempts by Ukraine to hit TurkStream, which I believe is very possible since it is a natural gas pipeline lying in the Black Sea.
Speaking of Nord Stream 1 & 2, he said, "we understand who the final beneficiary is" and, of course, this was not said about Ukraine. He meant the USA. As a result, this has cut off Germany from a future source of inexpensive energy and future trade with Russia.
On the other hand, a poor EU with rising inflation and unemployment will be a great puzzle for the Chinese who may find their almost $1 trillion investment in the Silk Road project in trouble. [The Silk Road is a plan for a massive belt and road system — a trade agreement linking Europe with central Asia, China and southeast Asia.]
Germany in reality doesn't long to help Ukraine with arms. The main arms donations come from the USA and Great Britain. Poland would probably will be the third largest supplier, especially taking into consideration their soldiers of fortune who have been stationed in Ukraine since the beginning of the conflict. After yesterday's strikes, Germany will be forced to show solidarity and send more military equipment. The existence of a Ukrainian state, after all, was an old German-Austrian project designed to destabilize the Russian Empire at the end of WWI. This gives them reason for sentimental feelings. Germany opposes any more war escalation with Russia and realizes it is dangerous if not fatal for their economy. At the same time, they won't ignore Ukraine completely.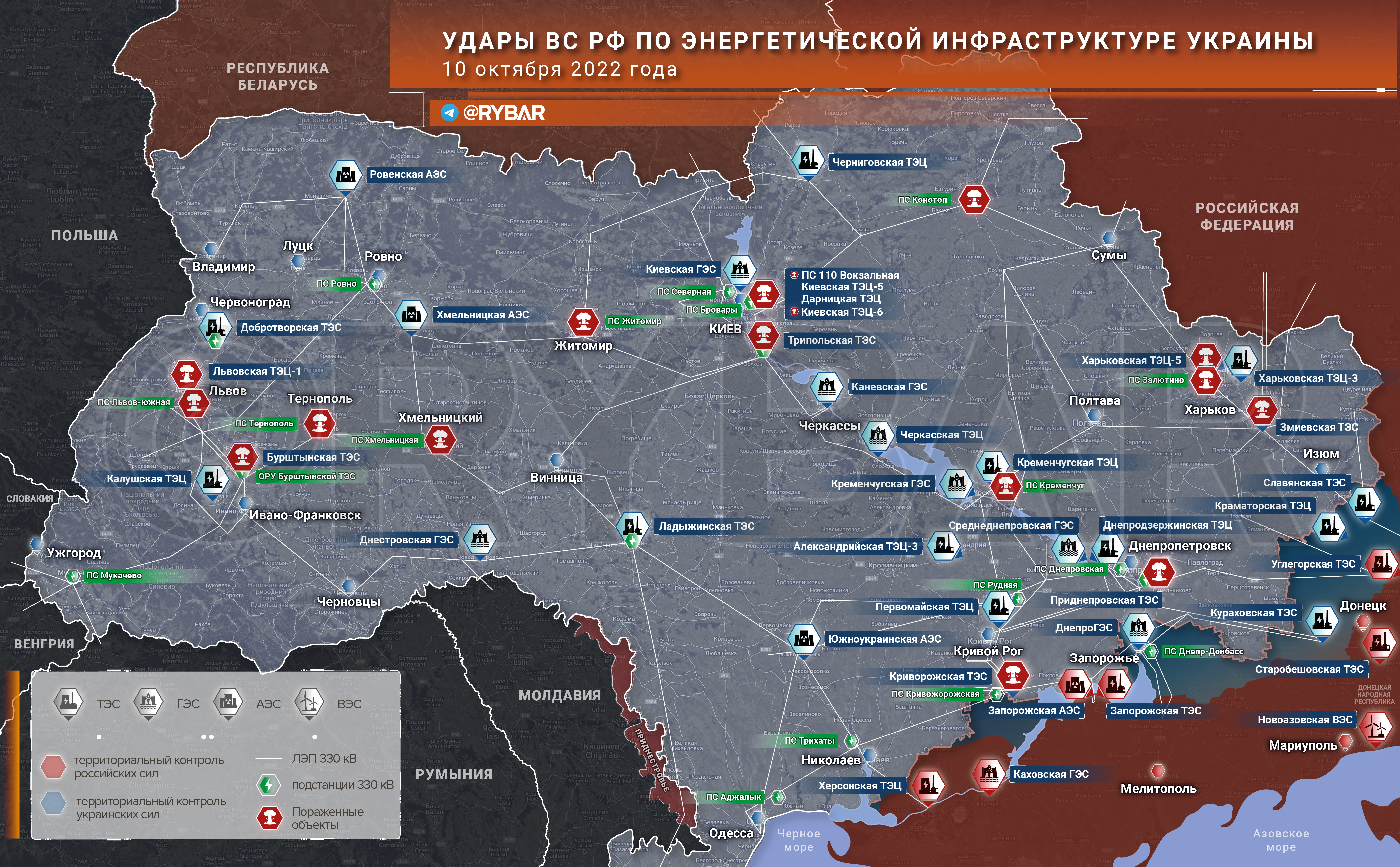 A detailed map of the hit objects and brief description. Just turn on the translation. CHPP – stands for Coal Heated Power Plant — Aftershock News.
On the morning of October 10, the RF Armed Forces launched massive missile attacks on energy facilities in the eastern, central and western regions of Ukraine.
12 hours after the attack, Rybar's team analyzed data from open sources and clarified the list of objects that were reliably hit by fire:
▪️ Kyiv: Kyiv CHPP-5, CHPP-6, Darnitskaya CHPP, Vokzalnaya SS 110 kV, Trypilska TPP.
▪️ Zhytomyr: Substation Zhytomyr 330/110 kV.
▪️ Khmelnitsky: Substation Khmelnitskaya 330/110 kV.
▪️ Ternopil: Substation Ternopil 330/110/35 kV.
▪️ Lviv: Lvovskaya CHPP-1, substation Lvov-​Yuzhnaya 330/220/110 kV.
▪️ Ivano-​Frankivsk: Burshtynska TPP.
▪️ Sumy: Substation Konotop 330 kV.
▪️ Poltava: Substation Kremenchug 330/154/35/10 kV.
▪️ Dnipropetrovsk: Pridneprovskaya TPP.
▪️ Kryvyi Rih: Kryvyi Rih TPP.
▪️ Kharkiv: CHPP-5, Zmievskaya TPP, Zalyutino substation 330/110/35 kV.