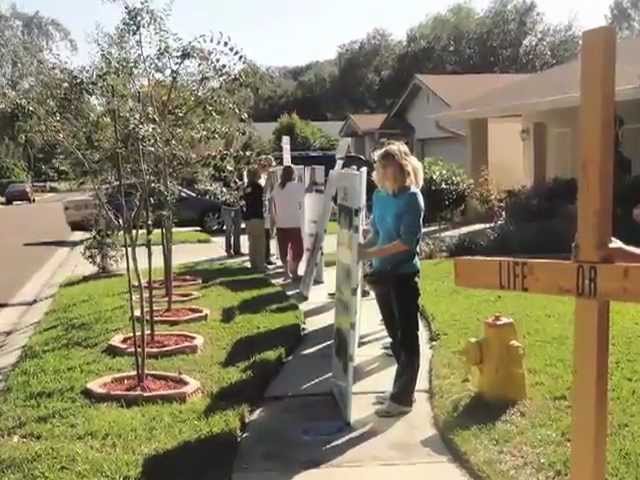 "And have nothing to do with the unfruitful deeds of darkness, but rather expose them" (Ephesians 5:11).
TAMPA, FL (FR) – Abortionist José Raul Quintana works for Gary Dresden's All Women's Health Center abortion chain. On November 12, 2011 a dozen sidewalk evangelists conducted a neighborhood awareness campaign at Quintana's residence.
The campaign began in the parking lot of St Paul's Catholic Church at 2 pm and lasted until 4. About 12 street evangelists from Orlando, Riverview, New Port Richey, Cleawarer and Tampa first marched through the Quintana neighborhood and then stood at the intersection of the street as hundreds of people drove by to attend a wedding mass across the street. One awareness campaign participant passed out flyers to passers-by.
At about 2:30 pm, the neighbors across the street returned to their home and began to confront the street evangelists claiming that the signs depicting graphic representations of aborted children were offensive. José Quintana was not present during the campaign. At several points, the Quintana family and some teenage boys who are friends of the Quintanas began to angrily confront the street evangelists saying that the demonstrators had no right to be in a "restricted neighborhood."
The police were called and immediately explained that they were acting as peace officers and not taking sides. They also explained to all involved that it is the right of Americans to assemble and speak in a public right of way.
As Deanna Waller messaged from the event, "Today we were spit at, cursed at, kicked at, called names, had mulch thrown on us and sprinklers turned on us for Jesus … All in a day's work! Wonder what tomorrow will bring?"
See more information on abortionist José Raul Quintana including disciplinary actions taken against him by the Florida Department of Health and the Ohio State Medical Board.