I don't think John McCain can win the nomination with an outright majority. Too much of the conservative base of the Republican Party is stacked against him. Depending on who does better on Super Tuesday, Romney and Huckabee ought to forge a deal to block McCain. Together they might have more delegates than McCain. I would not be surprised to see them finish out as a "combined ticket" depending on who is in second and third place respectively.

I voted for Mike Huckabee on Tuesday and was berated last week by Christians who were both Ron Paul supporters and Mitt Romney supporters. The Paul supporters thought I was making a bad choice in voting for a "fiscal liberal." The Romney supporters thought that I was helping McCain win by voting for Huckabee merely because he is the strongest pro-life candidate.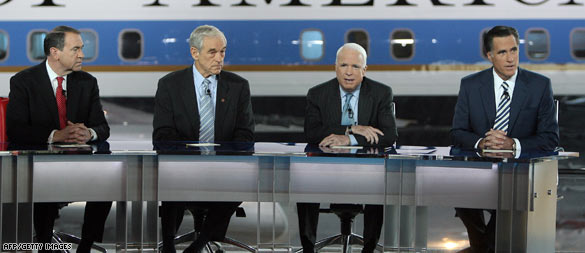 Thankfully, none of my Christian friends voted for McCain — even though nationally he's getting a good slice of the evangelical vote. My friends who are Ron Paul supporters are either Christian Reconstructionists or those convinced that a "New World Order" is looming on the horizon and Paul is supposedly the only one who can save us from it. The few who voted for Romney are taken in by the idea that Huckabee could not possibly beat the Clintons — even though he's stood up to their political machine in Arkansas and won — twice.

I am amazed at the number of people who believe the media hype that McCain is destined to be coronated on Super Tuesday. Less than 10 percent of the delegates have been chosen. The daily tracking polls a few days after the Florida primary show Romney and McCain tied or within one percent of each other at around 29 percent nationally. Meanwhile, Mike Huckabee's support has rebounded to around 20 percent. With the margin of error inherent in all polls, it's anybody's nomination.

What really surprises me is the daily tracking polls. Everyone assumed that with Thompson and Giuliani out of the race that all these votes would go to McCain or Romney and Huckabee's standing would continue to plummet. Yet Huckabee has gained about five percentage points this week in national polls while Romney and McCain are holding steady. No one has more than one-third of the voters yet in any poll.

A candidate needs 1,191 delegates to win a 51 percent majority.

This is how it stands before Super Tuesday.

McCain — 93
Romney — 59
Huckabee — 40

If McCain finishes first in the "winner take all" states, he's in good shape to be the frontrunner. But if Romney and McCain split the big delegate contests evenly, then it's a close race in most of the upcoming primary states. If Huckabee can take Missouri, Alabama, Tennesee, Georgia and show well in Illinois, it won't make him the frontrunner, but he will move forward. There will still be a three man race with little more than half the delegates chosen.

Add to this the fact that McCain's negatives are higher among the conservative Republican base than Romney's and Huckabee's. Then consider that many of the contests are closed primaries in which only Republicans can vote. So even if McCain goes into the convention with the most delegates, a plurality does not guarantee the winner. An argument could be made that since most of the conservative base of Republicans went for someone other than McCain, then someone else should be the nominee. Then we are likely looking at Romney/Huckabee or a Huckabee/Romney ticket.