By Michele Herzog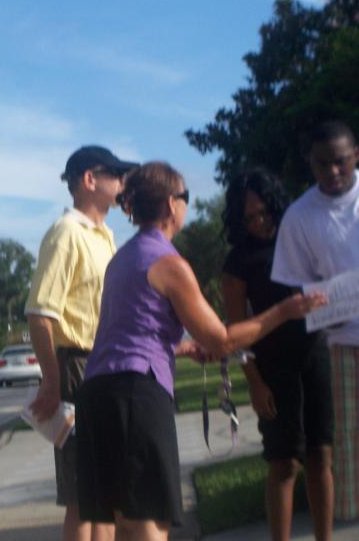 Sidewalk counseling is exactly what it sounds like – standing on the sidewalk outside of an abortion center counseling women and anyone that might accompany them inside the abortuary.
This is most often the last chance effort to offer real help to the woman, and the very last chance to cry out for the little child in the womb who is being drawn to the slaughter. Scripture commands us:
"Speak up for those who cannot speak for themselves, for the rights of all who are destitute" (Proverbs 31:8).
"If you falter in a time of trouble; how small is your strength! Rescue those being led away to death; hold back those staggering toward slaughter. If you say, 'But we knew nothing about this,' does not he who weighs the heart perceive it? Does not he who guards your life know it? Will he not repay everyone according to what they have done?" (Proverbs 24:10-12).
Join us and learn how you can rescue those being led away to death. Learn how you can be a true lifesaver to the woman and the child.
"When Jesus saw this, he was indignant. He said to them, 'Let the little children come to me, and do not hinder them, for the kingdom of God belongs to such as these'" (Mark 10:14).
Please RSVP to let us know you will be attending!
Email or call Winnie at 407-929-1108 or Michele at 407-230-2557
Victorious Living Fellowship
250 N. Ivy Lane
Orlando, FL 32811
March 5, 2011 – 9:30 am
Comments
Your comments are welcome!
---
The Four Keys to the Millennium (Book)
Foundations in Biblical Eschatology
By Jay Rogers, Larry Waugh, Rodney Stortz, Joseph Meiring. High quality paperback, 167 pages.
All Christians believe that their great God and Savior, Jesus Christ, will one day return. Although we cannot know the exact time of His return, what exactly did Jesus mean when he spoke of the signs of His coming (Mat. 24)? How are we to interpret the prophecies in Isaiah regarding the time when "the earth will be full of the knowledge of the LORD as the waters cover the sea" (Isa. 11:19)? Should we expect a time of great tribulation and apostasy or revival and reformation before the Lord returns? Is the devil bound now, and are the saints reigning with Christ? Did you know that there are four hermeneutical approaches to the book of Daniel and Revelation?
These and many more questions are dealt with by four authors as they present the four views on the millennium. Each view is then critiqued by the other three authors.
$12.95 — ORDER NOW!
(We accept all major credit cards and PayPal.)
Click here for more information
---
God's Law and Society (DVD)
Download the Free Study Guide!
God's Law and Society powerfully presents a comprehensive worldview based upon the ethical system found in the Law of God.
Speakers include: R.J. Rushdoony, George Grant, Howard Phillips, R.C. Sproul Jr., Ken Gentry, Gary DeMar, Jay Grimstead, Steven Schlissel, Andrew Sandlin, Eric Holmberg, and more!
Sixteen Christian leaders and scholars answer some of the most common questions and misconceptions related to this volatile issue:
1. Are we under Law or under Grace?
2. Does the Old Testament Law apply today?
3. Can we legislate morality?
4. What are the biblical foundations of government?
5. Was America founded as a Christian nation?
6. What about the separation of Church and State?
7. Is neutrality a myth?
8. What about non-Christians and the Law of God?
9. Would there be "freedom" in a Christian republic?
10. What would a "Christian America" look like?
Perfect for group instruction as well as personal Bible study.
Ten parts, over four hours of instruction!
Running Time: 240 minutes
Watch over 60 on-line video interviews from God's Law and Society.
$19.95 — ORDER NOW!
(We accept all major credit cards and PayPal.)
Click here for more information
---
Abortion Clinic 911 Calls (DVD)
Exposes the Dangers of Abortion to Women!
These shocking eyewitness accounts expose the dangers of abortion not only to unborn children, but to the health and lives women as well. An antidote to the smokescreens of the liberal media, these short clips show what really happens in and around abortion clinics.
Although the content is emotionally gut-wrenching, these videos have been used in church seminars and small groups to educate Christians on the abortion issue and to lead people toward a pro-life position. Contains 2 hours and 40 minutes of materials that can be shown separately.
Watch these pro-life videos on-line.
"These videos helped change my mind from pro-choice to pro-life. Your videos are what did it for me. I will be walking in next year's March For Life in San Francisco." — A. Jackson, California
"I was going to have an abortion until I saw your video. Praise Jesus!"
— M. Drew, YouTube Commenter
$4.95 — ORDER NOW!
(We accept all major credit cards and PayPal.)
Click here for more information
---
Massacre of Innocence (DVD)
Exposing The Occult Roots of Abortion
This presentation looks at the spiritual roots of abortion and exposes the myths surrounding child killing. Little known historical facts about abortion and how they relate to modern feminism are presented logically and accurately. Has been effective in converting many to a pro-life position.
Massacre of Innocence goes where no pro-life presentation has gone before in "tearing the lid off abortion" to reveal the spiritual realities we must battle if we will bring an end to this crime. The presentation is absorbing, fast-paced, informative and incredibly devastating to any attempt to justify abortion.
"… an extraordinary statement … a powerfully articulate presentation about what abortion really means, and why a great and moral nation like the United States must not allow the slaughter to continue."
— Congressman Robert K. Dornan
Running time: 85 minutes
$19.95 — ORDER NOW!
(We accept all major credit cards and PayPal.)
Click here for more information
---
Martin Luther: Digitally Remastered 1953 Classic (DVD)
"Here I stand … I can do no other!"
With these immortal words, an unknown German monk sparked a spiritual revolution that changed the world.
The dramatic classic film of Martin Luther's life was released in theaters worldwide in the 1950s and was nominated for two Oscars. A magnificent depiction of Luther and the forces at work in the surrounding society that resulted in his historic reform efforts, this film traces Luther's life from a guilt-burdened monk to his eventual break with the Roman Catholic Church.
Running time: 105 minutes
Special offer: Order 5 or more for $5 each.
Watch a clip from Martin Luther.
$9.95 — ORDER NOW!
(We accept all major credit cards and PayPal.)