By Michele Herzog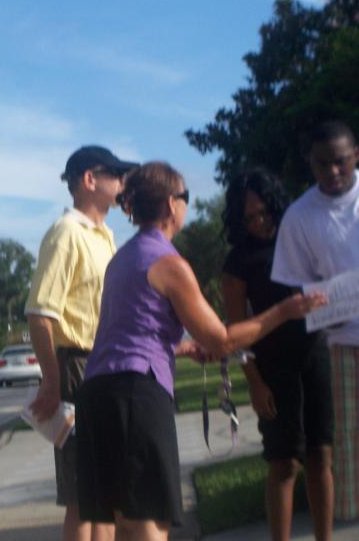 Sidewalk counseling is exactly what it sounds like – standing on the sidewalk outside of an abortion center counseling women and anyone that might accompany them inside the abortuary.
This is most often the last chance effort to offer real help to the woman, and the very last chance to cry out for the little child in the womb who is being drawn to the slaughter. Scripture commands us:
"Speak up for those who cannot speak for themselves, for the rights of all who are destitute" (Proverbs 31:8).
"If you falter in a time of trouble; how small is your strength! Rescue those being led away to death; hold back those staggering toward slaughter. If you say, 'But we knew nothing about this,' does not he who weighs the heart perceive it? Does not he who guards your life know it? Will he not repay everyone according to what they have done?" (Proverbs 24:10-12).
Join us and learn how you can rescue those being led away to death. Learn how you can be a true lifesaver to the woman and the child.
"When Jesus saw this, he was indignant. He said to them, 'Let the little children come to me, and do not hinder them, for the kingdom of God belongs to such as these'" (Mark 10:14).
Please RSVP to let us know you will be attending!
Email or call Winnie at 407-929-1108 or Michele at 407-230-2557
Victorious Living Fellowship
250 N. Ivy Lane
Orlando, FL 32811
March 5, 2011 – 9:30 am
Comments
Your comments are welcome!
---
Go Stand Speak (DVD)
With "preaching to the lost" being such a basic foundation of Christianity, why do many in the church seem to be apathetic on this issue of preaching in highways and byways of towns and cities?
Is it biblical to stand in the public places of the world and proclaim the gospel, regardless if people want to hear it or not?
Does the Bible really call church pastors, leaders and evangelists to proclaim the gospel in the public square as part of obedience to the Great Commission, or is public preaching something that is outdated and not applicable for our day and age?
These any many other questions are answered in this documentary.
$19.95 — ORDER NOW!
(We accept all major credit cards and PayPal.)
Click here for more information
---
Massacre of Innocence (DVD)
Exposing The Occult Roots of Abortion
This presentation looks at the spiritual roots of abortion and exposes the myths surrounding child killing. Little known historical facts about abortion and how they relate to modern feminism are presented logically and accurately. Has been effective in converting many to a pro-life position.
Massacre of Innocence goes where no pro-life presentation has gone before in "tearing the lid off abortion" to reveal the spiritual realities we must battle if we will bring an end to this crime. The presentation is absorbing, fast-paced, informative and incredibly devastating to any attempt to justify abortion.
"… an extraordinary statement … a powerfully articulate presentation about what abortion really means, and why a great and moral nation like the United States must not allow the slaughter to continue."
— Congressman Robert K. Dornan
Running time: 85 minutes
$19.95 — ORDER NOW!
(We accept all major credit cards and PayPal.)
Click here for more information
---
The Silent Scream (DVD) Eight Languages
"When the lives of the unborn are snuffed out, they often feel pain, pain that is long and agonizing." – President Ronald Reagan to National Religious Broadcasters Convention, January 1981
Ronald Reagan became convinced of this as a result of watching The Silent Scream – a movie he considered so powerful and convicting that he screened it at the White House.
The modern technology of real-time ultrasound now reveals the actual responses of a 12-week old fetus to being aborted. As the unborn child attempts to escape the abortionist's suction curette, her motions can be seen to become desperately agitated and her heart rate doubles. Her mouth opens – as if to scream – but no sound can come out. Her scream doesn't have to remain silent, however … not if you will become her voice. This newly re-mastered version features eight language tracks and two bonus videos.
"… a high technology "Uncle Tom's Cabin" arousing public opinion just as Harriet Beecher Stowe's 1852 antislavery novel ignited the abolitionist movement." – Sen. Gordon Humphrey, Time Magazine
Languages: English, Spanish, French, South Korean, Chinese, Russian, Portuguese, Japanese
Running Time: 28 minutes
$17.95 — ORDER NOW!
(We accept all major credit cards and PayPal.)
Click here for more information
---
In The Days of These Kings (Book)
Perfect-bound Paperback — 740 pages
The Book of Daniel in Preterist Perspective
"And in the days of these kings shall the God of heaven set up a kingdom, which shall never be destroyed: and the kingdom shall not be left to other people, but it shall break in pieces and consume all these kingdoms, and it shall stand for ever" (Daniel 2:44).
The overarching message of Daniel is that Jesus the Messiah is even now ruling over the nations. He is the King of kings. Daniel tells us that Messiah's kingdom will advance in the whole world from "generation to generation" (Daniel 4:4,34). Christ's dominion is "given to the people of the saints of the most High" (Daniel 7:22). Our purpose then is to see "all people, nations, and languages … serve and obey him" (Daniel 7:14,27).
This comprehensive work offers a fascinating look at the book of Daniel in preterist perspective. Great attention is paid to the writings of ancient and modern historians and scholars to connect the dots and demonstrate the continuity of Daniel's prophecy with all of Scripture.
$19.95 — ORDER NOW!
(We accept all major credit cards and PayPal.)
Click here for more information
---
Freedom: The Model of Christian Liberty (DVD)
"Give me liberty or give me death!"
Patrick Henry's famous declaration not only helped launch the War for Independence, it also perfectly summarized the mindset that gave birth to, and sustained, the unprecedented experiment in Christian liberty that was America.
The freedom our Founders envisioned was not freedom from suffering, want, or hard work. Nor was it freedom to indulge every appetite or whim without restraint—that would merely be servitude to a different master. No, the Founders' passion was to live free before God, unfettered by the chains of autocracy, shackles that slowly but inexorably bind men when the governments they fashion fail to recognize and uphold freedom's singular, foundational truth: that all men are created in the image of God, and are thereby co-equally endowed with the right to "life, liberty, and the pursuit of happiness."
This presentation is a similar call, not to one but many. By reintroducing the principles of freedom that gave birth to America, it is our prayer that Jesus, the true and only ruler over the nations, will once again be our acknowledged Sovereign, that we may again know and exult in the great truth that "where the Spirit of the LORD is, there is liberty" (2 Cor. 3:17).
Welcome to the Second American Revolution!
This DVD features "Liberty: The Model of Christian Liberty" along with "Dawn's Early Light: A Brief History of America's Christian Foundations." Bonus features include a humorous but instructive collection of campaign ads and Eric Holmberg's controversial YouTube challenge concerning Mitt Romney's campaign for president.
$14.95 — ORDER NOW!
(We accept all major credit cards and PayPal.)