By Michele Herzog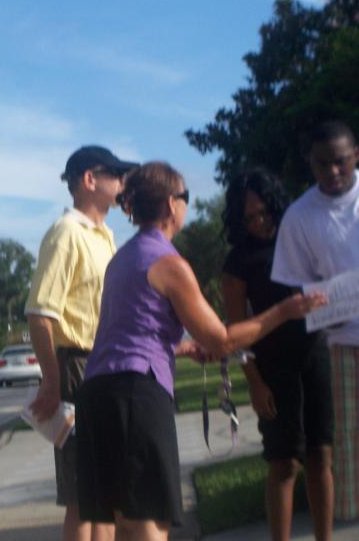 Sidewalk counseling is exactly what it sounds like – standing on the sidewalk outside of an abortion center counseling women and anyone that might accompany them inside the abortuary.
This is most often the last chance effort to offer real help to the woman, and the very last chance to cry out for the little child in the womb who is being drawn to the slaughter. Scripture commands us:
"Speak up for those who cannot speak for themselves, for the rights of all who are destitute" (Proverbs 31:8).
"If you falter in a time of trouble; how small is your strength! Rescue those being led away to death; hold back those staggering toward slaughter. If you say, 'But we knew nothing about this,' does not he who weighs the heart perceive it? Does not he who guards your life know it? Will he not repay everyone according to what they have done?" (Proverbs 24:10-12).
Join us and learn how you can rescue those being led away to death. Learn how you can be a true lifesaver to the woman and the child.
"When Jesus saw this, he was indignant. He said to them, 'Let the little children come to me, and do not hinder them, for the kingdom of God belongs to such as these'" (Mark 10:14).
Please RSVP to let us know you will be attending!
Email or call Winnie at 407-929-1108 or Michele at 407-230-2557
Victorious Living Fellowship
250 N. Ivy Lane
Orlando, FL 32811
March 5, 2011 – 9:30 am
Comments
Your comments are welcome!
---
The Abortion Matrix: Defeating Child Sacrifice and the Culture of Death (DVD)
Download the free Study Guide!
Is there a connection between pagan religion and the abortion industry?
This powerful presentation traces the biblical roots of child sacrifice and then delves into the social, political and cultural fall-out that this sin against God and crime against humanity has produced in our beleaguered society.
Conceived as a sequel and update to the 1988 classic, The Massacre of Innocence, the new title, The Abortion Matrix, is entirely fitting. It not only references abortion's specific target – the sacred matrix where human beings are formed in the womb in the very image of God, but it also implies the existence of a conspiracy, a matrix of seemingly disparate forces that are driving this holocaust.
The occult activity surrounding the abortion industry is exposed with numerous examples. But are these just aberrations, bizarre yet anomalous examples of abortionists who just happen to have ties to modern day witchcraft? Or is this representative of something deeper, more sinister and even endemic to the entire abortion movement?
As the allusion to the film of over a decade ago suggests, the viewer may learn that things are not always as they appear to be. The Abortion Matrix reveals the reality of child-killing and strikes the proper moral chord to move hearts to fulfill the biblical responsibility to rescue those unjustly sentenced to death and to speak for those who cannot speak for themselves (Proverbs 24:11,12; 31:8,9).
Speakers include: George Grant, Peter Hammond, RC Sproul Jr., Paul Jehle, Lou Engle, Rusty Thomas, Flip Benham, Janet Porter and many more.
Ten parts, over three hours of instruction!
Running Time: 195 minutes
$19.95 — ORDER NOW!
(We accept all major credit cards and PayPal.)
Click here for more information
---
A Revival Account: Asbury 1970 (DVD)
What is true Revival and Spiritual Awakening?
Discover the answer in this eyewitness account by Dennis Kinlaw, President of Asbury College, Wilmore, Kentucky, who recounts the story of a visitation of the Holy Spirit in 1970. This is the presentation that has continued to spark the flames of Revival in the hearts of people around the world. Contains eyewitness footage from the Revival at Asbury College in 1970 in Wilmore, Kentucky.
Certain to challenge you to greater holiness and a deeper commitment to full-scale revival. Original news and private footage has been included. If you are a student who longs to see a spiritual awakening at your school, you must see this video!
"This simple video does a wonderful job of conveying something of God's heart and power, Everyone we have ever shown this to has received an immediate impartation of faith for revival and the power of prayer."
— Bob and Rose Weiner, Weiner Ministries Int'l
Running Time: 40 minutes
$19.95 — ORDER NOW!
(We accept all major credit cards and PayPal.)
Click here for more information
---
Dr. Francis Schaeffer - A Christian Manifesto (DVD)
That Swiss Hermit Strikes Again!
Dr. Schaeffer, who was one of the most influential Christian thinkers in the twentieth century, shows that secular humanism has displaced the Judeo-Christian consensus that once defined our nation's moral boundaries. Law, education, and medicine have all been reshaped for the worse as a consequence. America's dominant worldview changed, Schaeffer charges, when Christians weren't looking.
Schaeffer lists two reasons for evangelical indifference: a false concept of spirituality and fear. He calls on believers to stand against the tyranny and moral chaos that come when humanism reigns-and warns that believers may, at some point, be forced to make the hard choice between obeying God or Caesar. A Christian Manifesto is a thought-provoking and bracing Christian analysis of American culture and the obligation Christians have to engage the culture with the claims of Christ.
$19.95 — ORDER NOW!
(We accept all major credit cards and PayPal.)
Click here for more information
---
God's Law and Society (DVD)
Download the Free Study Guide!
God's Law and Society powerfully presents a comprehensive worldview based upon the ethical system found in the Law of God.
Speakers include: R.J. Rushdoony, George Grant, Howard Phillips, R.C. Sproul Jr., Ken Gentry, Gary DeMar, Jay Grimstead, Steven Schlissel, Andrew Sandlin, Eric Holmberg, and more!
Sixteen Christian leaders and scholars answer some of the most common questions and misconceptions related to this volatile issue:
1. Are we under Law or under Grace?
2. Does the Old Testament Law apply today?
3. Can we legislate morality?
4. What are the biblical foundations of government?
5. Was America founded as a Christian nation?
6. What about the separation of Church and State?
7. Is neutrality a myth?
8. What about non-Christians and the Law of God?
9. Would there be "freedom" in a Christian republic?
10. What would a "Christian America" look like?
Perfect for group instruction as well as personal Bible study.
Ten parts, over four hours of instruction!
Running Time: 240 minutes
Watch over 60 on-line video interviews from God's Law and Society.
$19.95 — ORDER NOW!
(We accept all major credit cards and PayPal.)
Click here for more information
---
Martin Luther: Digitally Remastered 1953 Classic (DVD)
"Here I stand … I can do no other!"
With these immortal words, an unknown German monk sparked a spiritual revolution that changed the world.
The dramatic classic film of Martin Luther's life was released in theaters worldwide in the 1950s and was nominated for two Oscars. A magnificent depiction of Luther and the forces at work in the surrounding society that resulted in his historic reform efforts, this film traces Luther's life from a guilt-burdened monk to his eventual break with the Roman Catholic Church.
Running time: 105 minutes
Special offer: Order 5 or more for $5 each.
Watch a clip from Martin Luther.
$9.95 — ORDER NOW!
(We accept all major credit cards and PayPal.)